We have a lot of courses where you can apply for admission

Each year we create and provide a large number of courses aimed at recruiting, skills building and enlightening our talents.
Taskforce
Odense Film Workshop wants to consolidate the future of film production on Funen. We are doing that by training a Taskforce consisting of young people in the areas of scriptwriting, as producers, on editing/sound and photo/lighting. Participants will be involved in a number of workshops and practical experiences so that they can attain the high level of Odense Film Workshop's film production in general and in the long term ensure a strong foundation for the film industry on Funen.
Next Step
Next Step is a year long course from February to November for our industry ready talents, preparing them for applications to New Danish Screen or similar sources of funding. The course is for producers, scriptwriters and directors, who have a concrete project they can work on throughout the whole course. You apply for a specific project and we will select four participants. The project is facilitated by an external consultant. The participants meet eight times in all, of which five are with this consultant.
Pure Film
Pure Film is a six-month course from April to October, for six film-makers from Funen who are still developing their skills in the film industry, but working towards a career in film or television. The objective is to strengthen their skills and storytelling ability so they can develop and create strong visual narratives in collaboration with others. The film-makers should apply for a specific project and we will select six participants. The project is facilitated by an external consultant and the participants meet six times.
Odense docs
Every year we recruit young people from additional local areas in Odense to produce documentaries on a given theme. Odense Docs focuses on sharpening young people's critical skills in relation to the documentary's representation of the real world and on getting young people to talk about themselves and their relationship with the surrounding community.
" Check out YouTube" in Filmspace
In Odense Film Workshop you can" Check out YouTube" every Wednesday from 16-18. Here we have a full menu of topics you can engage in, in collaboration with a member of staff from the workshop. You can, among other things, learn to :
– develop ideas for film and the net, use a camera, sound and lighting, shoot on the Green Screen, edit, create thumbnails and much more. This course is primarily aimed at young people between 13 -18 and enrolment is not required.
Story lab
Story Lab is freely offered to the schools of Odense where we invite them to step out of their normal learning environment and into Odense Film Workshop for an insight into the fantastic world of the short film.
You can see more on https://www.skoletjenesten.dk/tilbud/story-lab Contact film consultant Nicklas Clark, if you want to book a course for your class.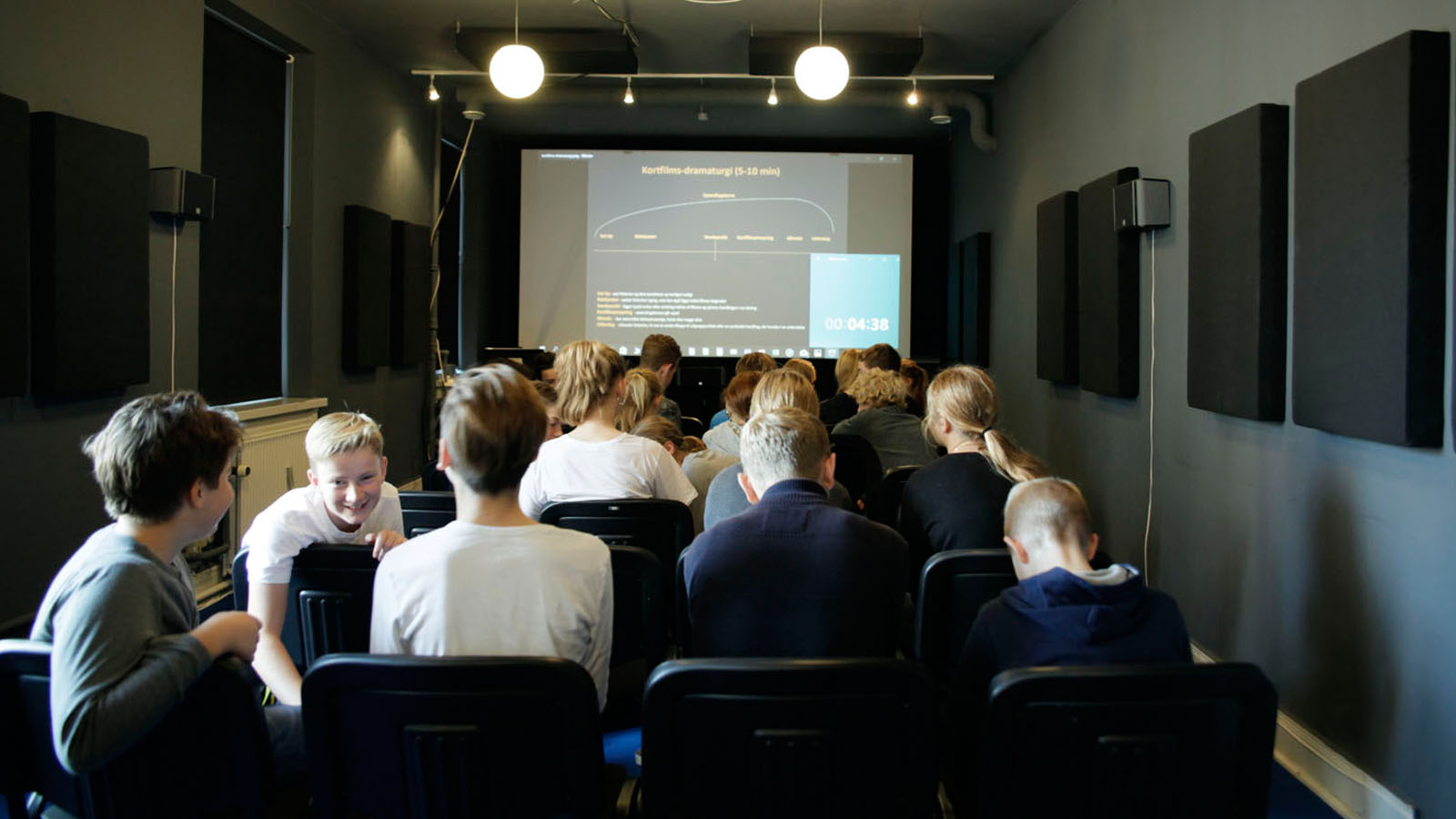 Go Urban
Go Urban seeks to contribute to a number of different cultural experiences and develop collaboration across the many arts related institutions in Odense. In addition it will allow participants a voice on Odense's cultural scene.
In 2017, in cooperation with Odense Theatre, four female film directors each produced a 3 minute short film on the theme of "Robot". Their films were screened as part of the theatre performance "Robot", which premiered on May the 4th at Odense Theatre. In 2018 we will work with Kansas City and the Funen Academy of Art. More information to follow.